Dmcc Business Plan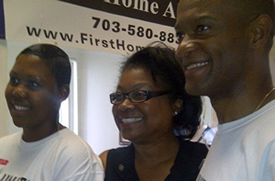 Volunteer Opportunities
Management Systems Coordinator/Trainer
First Home Alliance is currently seeking a volunteer to study and become an expert on our client management system CounselorMaxTM and HOPE LoanPortTM. Experience with these systems or other client management systems is a plus, but not required. Responsibilities will include learning the systems in detail and then training our staff and volunteers. Most of the training will take place via web/teleconference; however, in person training is needed in some cases.
Essay Writing Language *Signed code of ethics is required.
*This volunteer opportunity requires a minimum commitment of 12 hours per week.
Additional information:
Essay Writing My Friend CounselorMaxTM web application is the premier client management system (CMS) used by the most advanced housing counseling agencies in the United States. CounselorMaxTM is HUD Compliance and used for tracking and reporting on education and counseling services. CounselorMaxTM also has grant and subsidy tracking capabilities, as well.
HOPE LoanPortTM portal is a neutral, transparent, web- based utility created to improve the execution of loan modifications and designed to be used by non-profit counseling agencies and mortgage loan servicers. HOPE LoanPortTM portal allows counselors to help with the collection of necessary documents from homeowners, upload the completed package directly to servicers and track the status of a borrower's application.
Volunteers Needed: 2
Loss Mitigation/Housing Counselor
http://vedos.samk.fi/?do-people-have-the-right-to-die-essay Do People Have The Right To Die Essay First Home Alliance, a nonprofit agency specializing in housing counseling and foreclosure intervention is currently seeking Volunteer Loss Mitigation/Housing Counselors to work in the Northern Virginia area.
Write A Phd Thesis Some of the responsibilities will include:
· Customer Service to individuals who are behind on payments for mortgages
· Documentation and follow-up on calls as well as proper escalation to any other departments
· Provide one-on-one counseling to homeowners experiencing mortgage default
· Conduct classes and give presentations on credit, budgeting and debt reduction.
· Signed code of ethics is required.
· This volunteer opportunity requires a minimum commitment of 16 hours per week.
Areas of Interest:
Education & Literacy, Community, Crisis Support, Homeless & Housing
Skill Description:
It is recommended that volunteers have an understanding the following areas of real estate and mortgage transactions: Settlements, home purchase, short sales, HUD-1, major types of mortgages, the foreclosure process, loss mitigation, etc. They should also have a working knowledge in homeownership, be able to attend required training and have a background in finance. Ongoing Opportunity;
Experience in the following areas is a plus: Loss Mitigation training is available.
Requirements:
Loss Mitigation training is available. Counselors must complete 3 HUD Certification courses in Foreclosure Prevent and Loss Mitigation. First Home Alliance will cover the cost of this training. Some evening and weekend are required.
Buy Essays Cheap Volunteers Needed: 10
Office Administration / Program Assistant
First Home Alliance is seeking assistance with general office administrative and program assistant. Major tasks would include electronic file transfers, data input and follow-up telephone calls to clients and mortgage companies. Other duties includes: customer service, assisting with client intake, and fundraising. Some evening and weekend are required.
*Signed code of ethics is required.
*This volunteer opportunity requires a minimum commitment of 12 hours per week.
http://www.smn.gob.hn/?harvard-business-school-essay Harvard Business School Essay Skill Description:
Computer and telephone skills are required.
Locations: Woodbridge and Arlington
Volunteers Needed: 20